Radical Relationship Retreat
March is YOUR time for a mini-vacation
Beautiful High Point, NC AWAITS
March  16-18, 2018
Join couples and singles to learn about "Radical Relationships" – ways to strengthen and understand relationships, communicate with respect, and make decisions to sustain relationships through tough times.
Relationship Specialist Lori Ann Davis and Life Coach Glenn Proctor will lead  the group through an inspiring series of "radical ideas" and exercises designed to create Unstoppable new and existing relationships.
It's a honeymoon or a break from work, children, family, social media, and daily drama. It's a weekend of conversation and fun learning.
Come with your partner or a friend, relax at a beautiful Inn and learn how to create not just a good relationship, but a Radical One!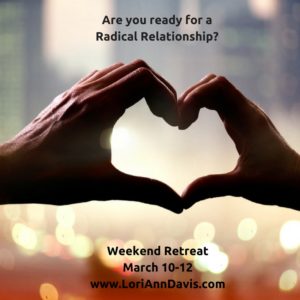 Lodging: JH Adams Inn, 1108 N. Main St., High Point, NC
Contact the resort at 336-882-3267 or reservations@jhadamsinn.com
*Mention the retreat to receive a discount on the room rate.
Check in Friday afternoon- Workshop ends Sunday morning
Workshop: Couples $250 – Two singles $250
Looking forward to seeing you there!
Questions contact me at 704-999-1781
Lori Ann Davis
Here's What Others Have to Say About the Class:
I learned so much from this retreat. It was important to me to evaluate my current relationship, know where the strengths and weaknesses are and how to make improvements in those areas. Learning about the stages in relationships and the importance of not staying in the stability stage was eye opening to me. Loved all the ideas I came away with to enhance my relationship. I highly recommend this retreat. 
My favorite part of the retreat was all the information about how men and women are different and how important this understanding is to a relationship. I now see my partner in a whole new light.
I am looking forward to practicing some of the new ideas I took away from this retreat, especially in the areas of radical intimacy and date nights.  Great retreat in a fabulous location with so much good information to take away and use in our day to day lives.
---
Secrets to Successful Dating Class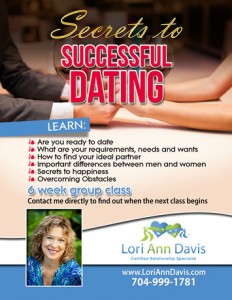 This class is designed to be interactive, limited to 10, and can be joined class via conference call.
Next class starts August 2017  Contact me for dates.
Are you frustrated with dating, wondering why it is so hard to find someone you are interested in?
Are you confused by the opposite sex and why they act the way they do?
Do you feel like you  attract all the wrong people?
 Do you feel intimidated by the idea of of getting out there and dating?
   Are you overwhelmed and exhausted dating and not meeting quality men or women?
Do you want to find a good partner without having to settle?
Then this class is for you!
There is a better way to date that will not leave you frustrated, confused, overwhelmed, exhausted,  or intimidated. My Secrets to Successful Dating class will address all of these challenges and much more! Group classes allow  you to learn dating skills at a much lower cost with a group of peers. Not only do you get my time but you also get the support and encouragement of other singles. You can make connections that will last even after the group is over.
I was single not that long ago and wondered not only how to get back out there dating, but also if there was someone out there for me. I had been married for 28 years and had no idea how to get back into the dating world. The good news is there is hope. I learned the secrets to successful dating and am excited to share them with you. I am now happily married once again and want to help you find that someone special!
In this program you will learn how to:
Attract someone worthwhile who wants to be in a relationship
Overcome dating anxiety and not second guess yourself
Understand the opposite sex
Ask the right questions to determine if you are truly compatible with someone
Master the do's and don'ts of dating etiquette
Flirt and become learn how to get that second date
Turn online dating into an exciting opportunity instead of dreading it
Find someone without settling
AND MORE
Here is what past clients have to say about the class:
The class series was very good – good info and thought provoking questions, which make us more aware and more open to different possibilities.
Lori's singles class has given me invaluable tools to help successfully navigate dating in today's world. The 6 week course was well structured. It included self-reflection, information about what you are looking for in a partner, and finally tools to go out and date with those two things in mind. Lori is a great resource with sound advice.
Through your effective coaching, I was able to "tap" into one of my greatest resources – me – and discover what I need to be in a successful, healthy, loving, respectful, mutually beneficial, happy, peaceful, long-term relationship. I believe this type of coaching is crucial and I wish I had it as I was coming of age. Guess there's is no time like the present! You helped me to see patterns and understand why those patterns existed, if I needed to get rid of them, build them, or try a new approach, which was super important to me. Thank you again, Lori!
Contact me if you have any questions: 704-999-1781