Radical Relationship Retreat
March is YOUR time for a mini-vacation
Beautiful High Point, NC AWAITS
March  16-18, 2018
Join couples and singles to learn about "Radical Relationships" – ways to strengthen and understand relationships, communicate with respect, and make decisions to sustain relationships through tough times.
Relationship Specialist Lori Ann Davis and Life Coach Glenn Proctor will lead  the group through an inspiring series of "radical ideas" and exercises designed to create Unstoppable new and existing relationships.
It's a honeymoon or a break from work, children, family, social media, and daily drama. It's a weekend of conversation and fun learning.
Come with your partner or a friend, relax at a beautiful Inn and learn how to create not just a good relationship, but a Radical One!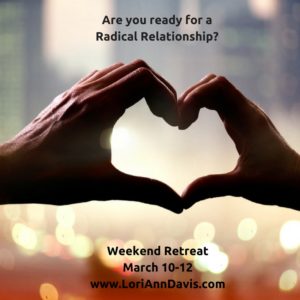 Lodging: JH Adams Inn, 1108 N. Main St., High Point, NC
Contact the resort at 336-882-3267 or reservations@jhadamsinn.com
*Mention the retreat to receive a discount on the room rate.
Check in Friday afternoon- Workshop ends Sunday morning
Workshop: Couples $250 – Two singles $250
Looking forward to seeing you there!
Questions contact me at 704-999-1781
Lori Ann Davis
Here's What Others Have to Say About the Class:
I learned so much from this retreat. It was important to me to evaluate my current relationship, know where the strengths and weaknesses are and how to make improvements in those areas. Learning about the stages in relationships and the importance of not staying in the stability stage was eye opening to me. Loved all the ideas I came away with to enhance my relationship. I highly recommend this retreat. 

My favorite part of the retreat was all the information about how men and women are different and how important this understanding is to a relationship. I now see my partner in a whole new light.

I am looking forward to practicing some of the new ideas I took away from this retreat, especially in the areas of radical intimacy and date nights.  Great retreat in a fabulous location with so much good information to take away and use in our day to day lives.
Contact me if you have any questions: 704-999-1781